USDOLLAR Charts Higher Peak On Weekly Chart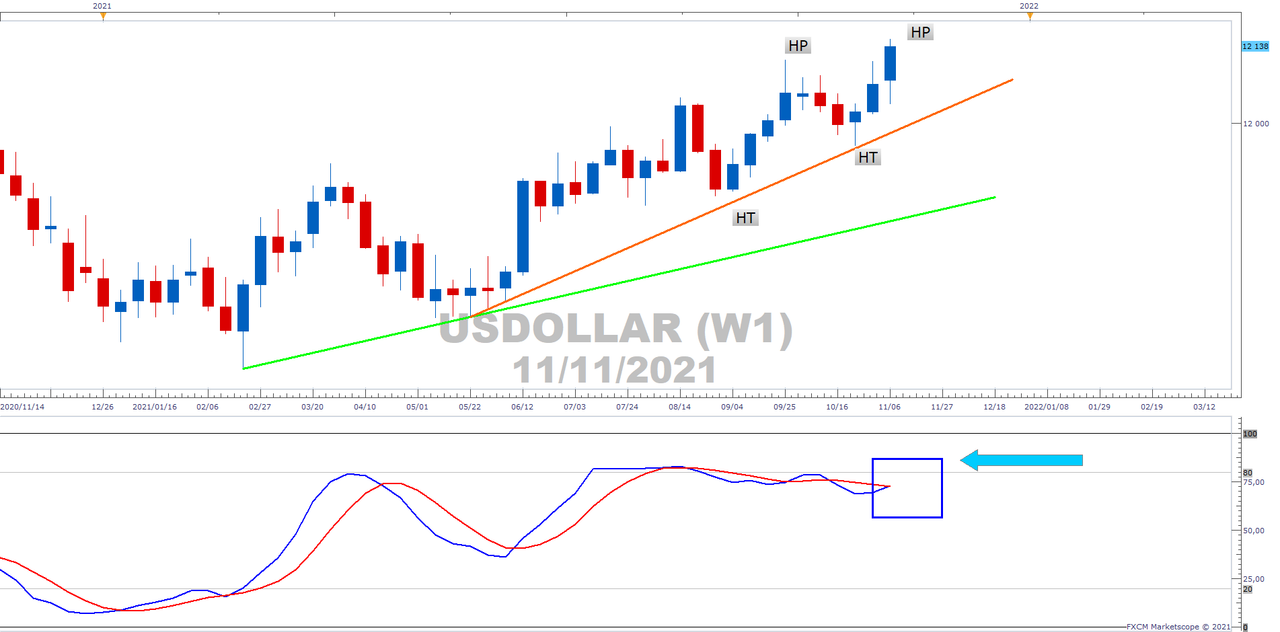 Past performance is not an indicator of future results
Following our previous analysis, the USDOLLAR has built off of its reference low. This week's price action has charted the next higher peak in a series of higher troughs followed by higher peaks. The USDOLLAR is in a defined uptrend. Furthermore, the greenback's momentum has increased throughout 2021. This is evident by the shift up in gradient from the green trendline to the orange trendline.
We now turn our attention to the stochastic. It looks to be crossing bullishly (blue square) and heading towards the upper quintile. If successful, this will be regarded as a very bullish development. Moreover, if the stochastic is able to maintain its position above 80 (aqua arrow), it will be indicative of an underlying bullish momentum building on a primary basis.
USDOLLAR strength makes sense given that inflation is incredibly strong. The Fed is also continuing with its asset purchases but at a declining rate so that the program ends in the middle of 2022. To this end, yields are adjusting upwards. If this continues, USDOLLAR strength is likely to be bolstered.
Russell Shor
Senior Market Specialist
Russell Shor joined FXCM in October 2017 as a Senior Market Specialist. He is a certified FMVA® and has an Honours Degree in Economics from the University of South Africa. Russell is a full member of the Society of Technical Analysts in the United Kingdom. With over 20 years of financial markets experience, his analysis is of a high standard and quality.