USDOLLAR Charts Continuation Pattern on Daily
In our previous article, we suggested that the USDOLLAR was at a potential swing low point. That is still the case after the Fed announcement yesterday. The next challenge for the greenback will be tomorrow when the non-farm employment change (NFP) is released. Given that this is one of the most anticipated data releases on the monthly calendar, it will be interesting to see if the swing low continues to hold after the print. In the interim, the daily USDOLLAR chart makes for interesting technical analysis ahead of the NFP: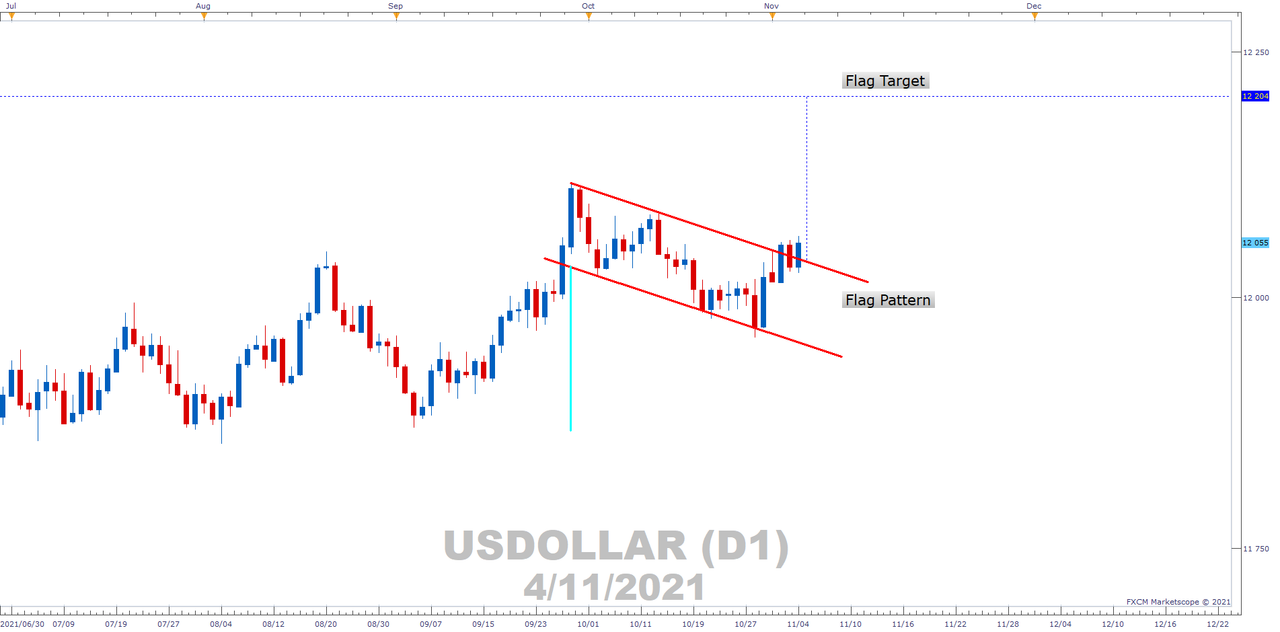 Past performance is not an indicator of future results
We know that the USDOLLAR is in uptrend on the longer-term chart. When we scale down to the daily chart, we can see that a flag pattern appears to be charting, as per the red line studies. This pattern is regarded as a continuation pattern i.e., once the flag is completed, price resumes moving in the direction of the primary trend. Theory suggests that a "flag flies at half-mast." This proposes that a measure of the flag's pole (aqua vertical) can be extended from the breakout point as a potential price target. We note that targets are academic in nature. Sometimes they are hit, and other times not. As such we, have drawn this with broken blue line studies. However, the flag pattern does suggest that this may be the the proverbial "dip in the uptrend" notwithstanding the important and market moving NFP tomorrow.
Russell Shor
Senior Market Specialist
Russell Shor joined FXCM in October 2017 as a Senior Market Specialist. He is a certified FMVA® and has an Honours Degree in Economics from the University of South Africa. Russell is a full member of the Society of Technical Analysts in the United Kingdom. With over 20 years of financial markets experience, his analysis is of a high standard and quality.