Gold EMAs Are Bearish Ahead of Fed Statement
XAUUSD

(${instrument.percentChange}%)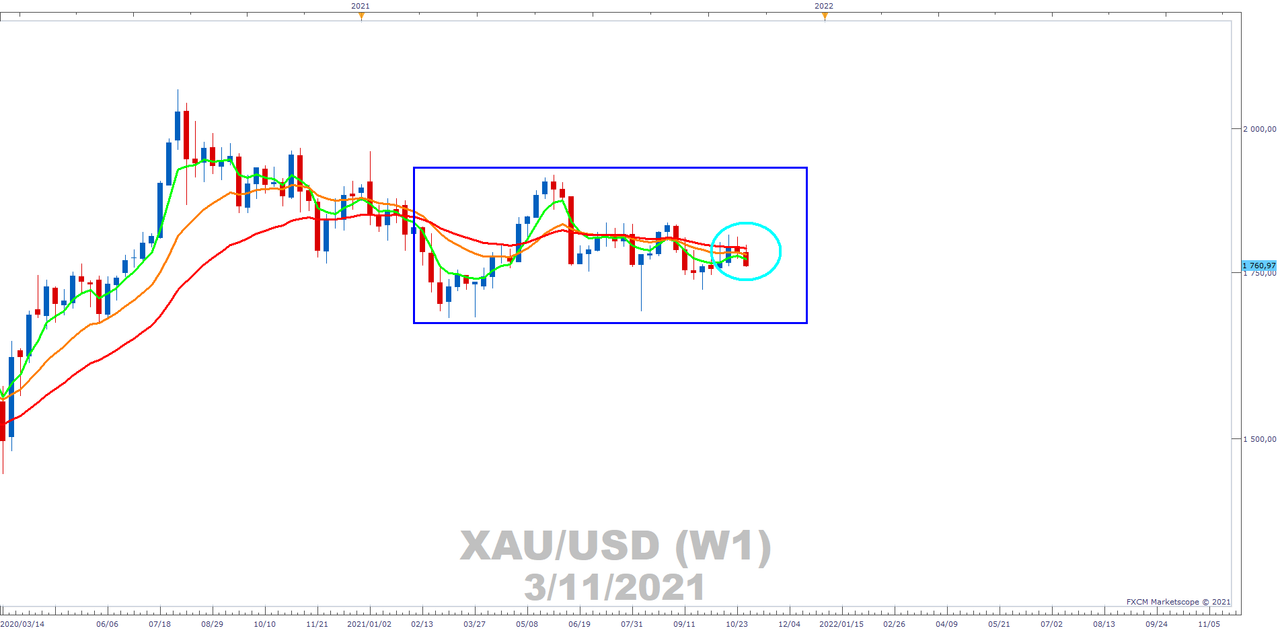 Past performance is not an indicator of future results
Gold has had a very ordinary 2021. The precious metal has been drifting sideways for most of the year (blue rectangle). We have added a triple moving average to get a sense of gold's directional bias. This is inherently risky because moving averages are trend-following indicators. This means that they work very well during trending moves but give constant whipsaw signals during a consolidation.
Currently, the EMAs have lined up in a bearish stack (aqua ellipse). I.e., the green short-term average is below the orange medium-term average, and the orange medium-term average is below the long-term red average. If these start to develop angle and separation, it would suggest that an underlying downwards momentum is building.
Gold is generally inversely related to the dollar. Therefore, the FOMC statement release today may have a tremendous bearing. A hawkish statement is likely to support the greenback. If this is the case, then gold may be under pressure. The EMAs will help determine this. As long as they stay in a bearish stack, gold is likely in decline. However, if the short-term green average crosses above the orange medium-term average, the consolidation may be set to continue.
Russell Shor
Senior Market Specialist
Russell Shor joined FXCM in October 2017 as a Senior Market Specialist. He is a certified FMVA® and has an Honours Degree in Economics from the University of South Africa. Russell is a full member of the Society of Technical Analysts in the United Kingdom. With over 20 years of financial markets experience, his analysis is of a high standard and quality.