OPEC+ Meeting Not Expected To Deviate From Supply Schedule
UKOil

(${instrument.percentChange}%)
Oil is up around 60% for 2021 and has a current price of approximately $82/barrel (Brent). OPEC+ is due to meet today and market participants don't expect a change to the current output schedules. This despite President Biden and allies encouraging producers with spare capacity to increase production. There is general alarm around inflation and the current call of "transitory" is debated. As such, a cap on oil prices will contribute to keeping inflation in check and help with the recovery out of pandemic lows.
Oil prices did pull back after Iran nuclear talks were confirmed for 29 Nov. This, given one of Iran's demands is for sanctions to be dropped, which have severely crippled Iran's oil exports. However, Saudi Arabia has dismissed the idea of a supply schedule change. It maintains that the energy market has ample supply. If this is the case, and no further increases are announced following today' meeting, then the energy markets are likely supported at current prices.
In this regard, consider the weekly chart of FXCM's UKOil CFD, its proxy for Brent: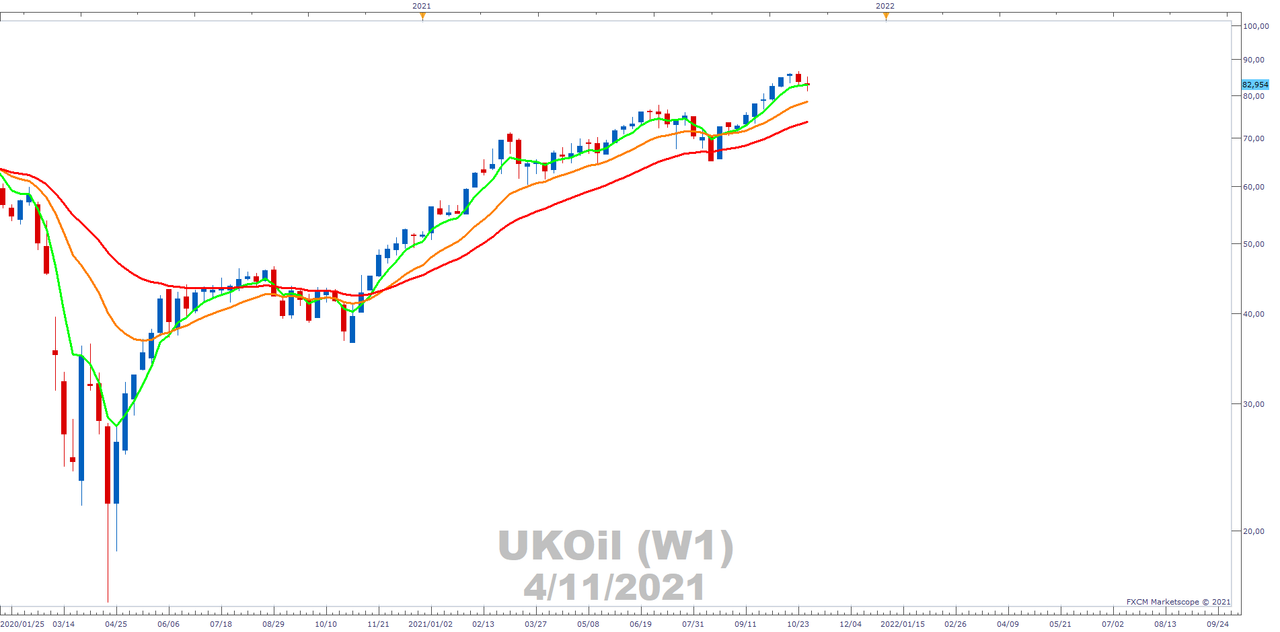 Past performance is not an indicator of future results
The triple moving averages are still in a bullish stack. I.e., the short-term green EMA is above the orange medium-term EMA, and the orange medium-term EMA is above the red long-term EMA. Moreover, the EMAs display an angle and separation. This suggests that momentum on the weekly scale is still underlying. Given this, and if the supply schedule is held constant, dips may prove compelling to energy market bulls.
Russell Shor
Senior Market Specialist
Russell Shor joined FXCM in October 2017 as a Senior Market Specialist. He is a certified FMVA® and has an Honours Degree in Economics from the University of South Africa. Russell is a full member of the Society of Technical Analysts in the United Kingdom. With over 20 years of financial markets experience, his analysis is of a high standard and quality.