The Fed Appears To Be Behind The Curve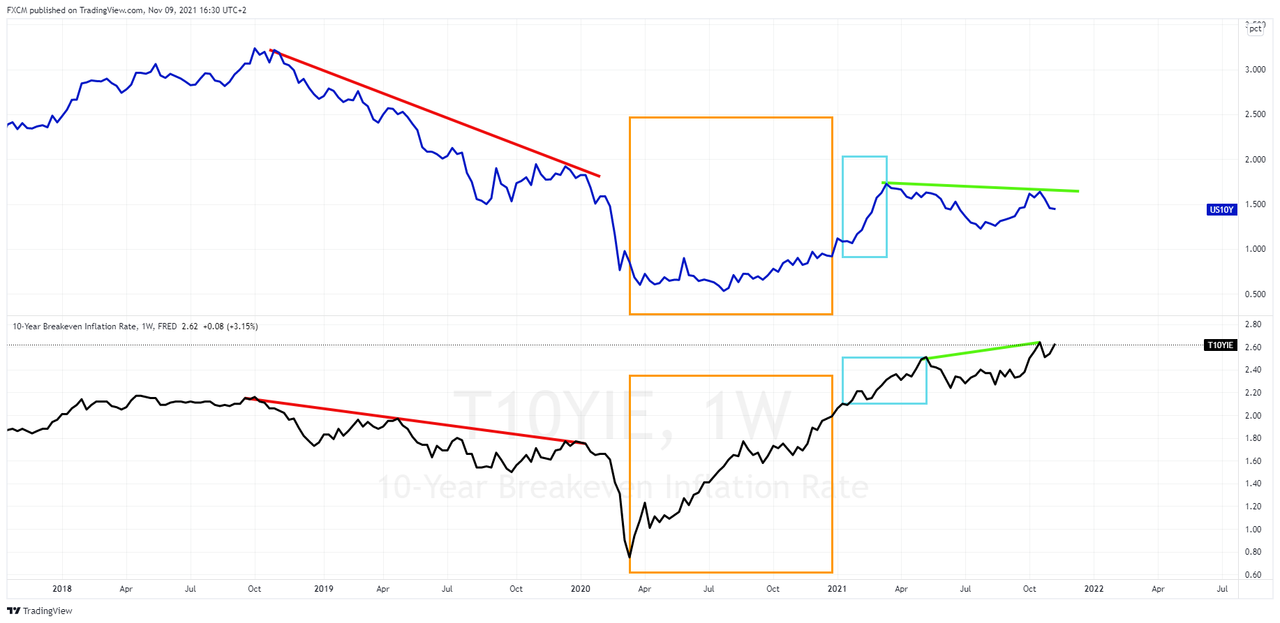 Past performance is not an indicator of future results.
Source: www.tradingview.com
Prior to the Covid-19 pandemic, the US10Y yield (blue line chart) was in decline. At the same time, the 10Y breakeven inflation rate was coming down. This period is denoted by the red down trendlines.
The orange box represents most of the 2020 year, as authorities implemented unprecedented monetary stimulus to deal with the fallout of the pandemic. To this end, the Fed announced unlimited QE on 23 March 2020. During the orange box period, the 10 year breakeven rate was appreciating, but the US10Y note failed to respond. This was due to the central bank taking an active role in control the 10Y yield.
However, as the market recognised the low base effect, high oil prices, and general demand pull inflation factors, the US10Y played catch up and followed the breakeven rate higher (aqua box period). Of importance, the current breakeven yield is higher than its pre-covid level, whilst the US10Y lags in this regard. This phenomenon is seen along the yield curve.
Moreover, there is a divergence in the trajectories of the US10Y and the breakeven (green trendlines) for 2021. This is because the Fed has on a consistent basis, since April pushed back on the idea of near-term rate hikes, and is still active in the bond market. However, consider the long-term correlation between the 10Y breakeven rate and US10Y treasury note: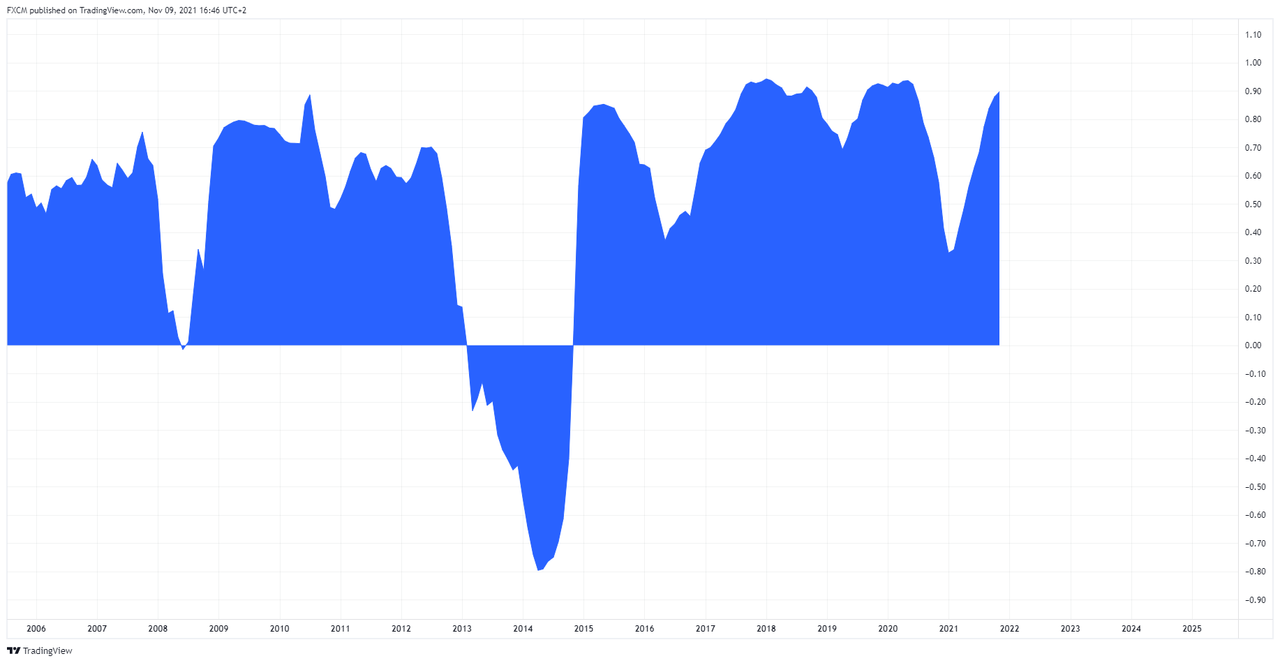 Past performance is not an indicator of future results.
Source: www.tradingview.com
The current correlation on a long-term monhly basis is 0.9. This is an extremely strong reading and has, except for a brief period, been positive. This is not surprising given the economic relationship between interest rates and inflation. Today, wholesale prices, as per the PPI, are up 8.6% y-o-y, the highest in 11 years, and 6.2% on a core basis. Tomorrow we get the CPI readings, another piece of the puzzle.
Further references: cnbc.com
Russell Shor
Senior Market Specialist
Russell Shor joined FXCM in October 2017 as a Senior Market Specialist. He is a certified FMVA® and has an Honours Degree in Economics from the University of South Africa. Russell is a full member of the Society of Technical Analysts in the United Kingdom. With over 20 years of financial markets experience, his analysis is of a high standard and quality.