GBPUSD Reacts Swiftly As BoE Hold Rates Steady
GBPUSD

(${instrument.percentChange}%)
The BoE kept its policy rate at 0.1%. The votes came in at 7-2, with Ramsden and Saunders as the dissenters. Comments from the summary refer to an expectation of inflation dissipating over time, with the central bank viewing supply chain disruptions and global demand as normalising. The market was divided as to whether or not the BoE would hike. This was fuelled by the number of hawkish comments over the last two months. As such, the market reactions were severe when the unchanged decision was released.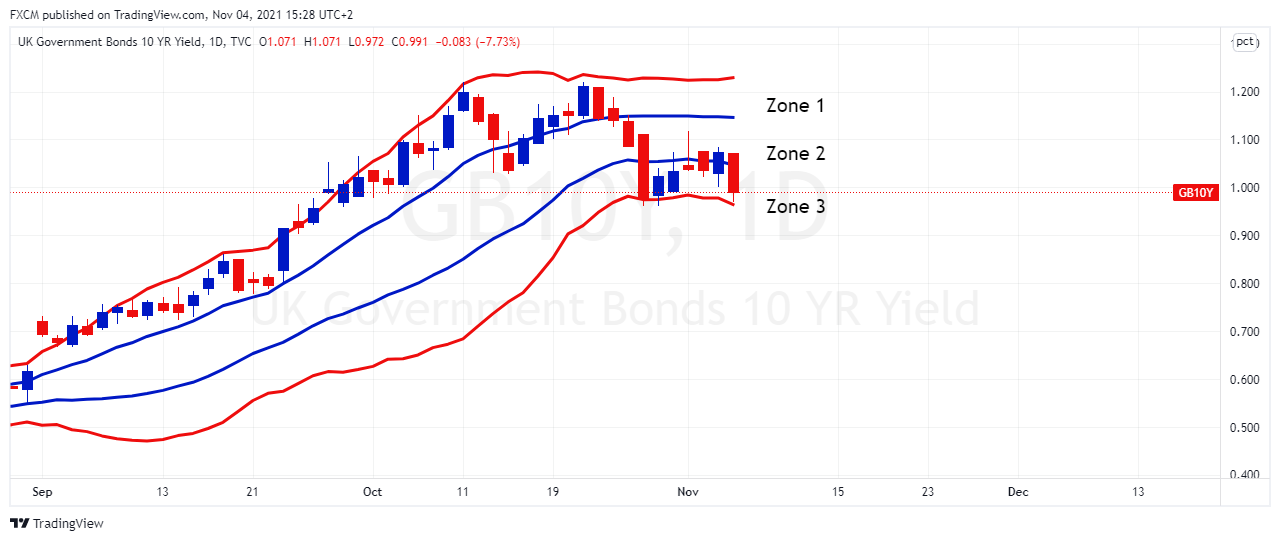 Past performance is not an indicator of future results
Source: www.tradingview.com
Prior to the announcement, British gilt yields were supported and were looking to move from the weak zone 3 to the neutral zone. However, after the announcement, gilt yields dropped sharply and have settled back in zone 3. In all likelihood, a hike is coming in the near term and it will be interesting to see when the yield makes another attempt at appreciation. Cable also reacted swiftly.

Past performance is not an indicator of future results
Source: www.tradingview.com
GBPUSD charted a strong candle to the downside. This denotes a strong sense of emotion in the sell-down. The currency is also trading in weak zone 3. Moreover, the outer Bollinger bands are starting to expand. This signals an increase in volatility. If the GBPUSD pair continues to chart in zone 3 and the Bollingers continue with their expansion, it will be a bearish development.
The BoE surprised markets today and market participants now turn to December. This gives the central bank more time to analyse economic data. The probabilities suggest a rate hike at the next meeting, but given today's surprise, one could not be faulted for being cautious in this regard.
References: https://www.bankofengland.co.uk/monetary-policy-report/2021/november-2021
Russell Shor
Senior Market Specialist
Russell Shor joined FXCM in October 2017 as a Senior Market Specialist. He is a certified FMVA® and has an Honours Degree in Economics from the University of South Africa. Russell is a full member of the Society of Technical Analysts in the United Kingdom. With over 20 years of financial markets experience, his analysis is of a high standard and quality.